In a previous post on extreme weather and flooding we learned that human-caused climate change is driving the increase in big storms and flooding, not just in the U.S., but around the world. People are dying, and more lives and property are at increased risk.
Some important questions we could ask, include…
What is the link between climate change and flooding?
What are the health risks from extreme precipitation and flooding?
How can we prepare?
What do we do if we get flooded?
How do we keep it from getting worse?
Linking climate change and flooding
Put in simple terms, burning of fossil fuels puts more carbon dioxide into the atmosphere –> more carbon dioxide traps more heat in the atmosphere –> more heat causes more heat waves and warmer air sucks up more moisture –> more moisture sucked out of one place causes drought, but then when that moisture comes out of the air someplace else it causes extreme rain and snow… and flooding.
Based on actual measurements of rainfall over recent decades…

Depending on where you live, extreme precipitation has increased from 5 to 71% in the U.S.
Extreme precipitation events have increased 12% worldwide since the 1980s.

For the 0.85°C / 1.53°F of global warming that's already happened…

18% of the most extreme precipitation events are caused by global warming,
And 75% of extreme heat events are caused by global warming.

For the 2°C / 3.6°F of global warming that is likely to happen…

40% of extreme precipitation events will then be due to global warming
And as the temperature rises, there will be an exponential increase in heat waves
Clearly there are some pretty drastic changes underway. Flooding is happening more often in a world of ever increasing extremes. So it should come as no surprise to learn that insurance claims are skyrocketing around the world. According to the re-insurance company SwissRE, in their report Flood: an underestimated risk (2012)…
"No other natural catastrophe impacts as many people as flooding. An estimated 500 million people are affected every year across all parts of the globe. The increase in flood claims has been significant; 1970's annual claims were USD 1–2 billion, whereas 2011's insured flood losses amounted to USD 15 billion. Recent flood events in Thailand, Australia and the Philippines show that floods now rival earthquakes and hurricanes in terms of economic losses."
Matthias Weber, Swiss Re Group Chief Underwriting Officer, says:
"…Population growth, a concentration of assets in exposed areas and climate change all contribute to the increasing costs of flood damage and create challenges for insurability."
These are not arcane computer model predictions, but real events leading to huge economic losses — directly observed evidence of climate change. This shows us that the impacts of climate change are real, are happening today, and are getting worse.
What are the health consequences of extreme precipitation and flooding?
Floods injure and drown people, but there are also many health risks after the water goes away. Flood waters contain a toxic mix of sewage, petroleum, chemicals, and other nasty things. After the water recedes, a thick poisonous muck is left behind. Drinking water sources can be contaminated and mold grows in the walls of flooded buildings. These are the dramatic and obvious effects of a flood, but there are also long-term and indirect impacts on people's well-being. Some of the indirect health impacts of flooding include…
disease
long-term disability
property loss
job loss
anxiety, depression, PTSD
Here's a nice flowchart from a recent scientific paper that breaks it down for us. The paper is titled: Increasing Vulnerability to Health Effects before, during and after Floods by Dianne Lowe, Kristie L. Ebi and Bertil Forsberg, who are public health researchers at Umea University in Sweden. Their study focussed on developed nations, including the United States, and on flooding from extreme rainfall events, and not on flooding from hurricanes or tsunamis.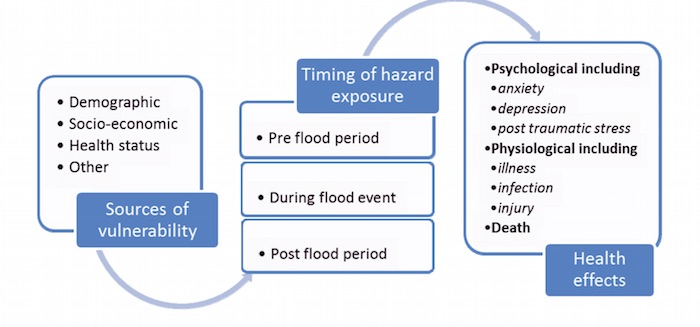 To quote this paper, "During floods, females, elderly and children appear to be at greater risk of psychological and physical health effects, while males between 10 to 29 years may be at greater risk for mortality (death). Post-flood, those over 65 years and males are at increased risk of physical health effects, while females appear at greater risk of psychological health effects. Other risk factors include previous flood experiences, greater flood depth or flood trauma, existing illnesses, medication interruption, and low education or socioeconomic status."
   Hazards BEFORE the flood
Two effects that occur before include water supply contamination and gastrointestinal illness from early flooding.  The first thing that happens from an inundation of flood water is that storm sewers back up, water treatment plants are adversely affected, and drinking water sources are contaminated.
Heart attacks and other injuries also increase before the flood due to people over exerting themselves by filling sandbags and doing other strenuous work.
   Hazards DURING the flood
Health impacts during flooding include: drowning, trauma from car crashes and other causes, heart attack, diarrhea, and psychological distress.
Some of the less obvious impacts include electrocution, carbon monoxide poisoning, and burns. Carbon monoxide poisoning and burns happen due to people using gas stoves and portable kerosene heaters inside for heat after the power goes out.
Some other risk factors for death or injury during a flood, include: drinking alcohol or being drunk during a flood; wading into flooded waters; attempting to rescue others in flooded areas; and driving a car in a flooded area –unless you were using that car to evacuate the flood area, in which case it was protective.
The group at highest risk for death include males in the 10 to 29 year range, mostly due to risk taking behavior. Females have the higher risk of psychological problems, such as PTSD and anxiety.
   Hazards AFTER the flood
Some might downplay the mental health risks of surviving a natural disaster. So here are a few quotes from survivors of Hurricane Sandy that might change your mind…
A 5-year-old girl who was pulled from floodwaters clinging to her father hasn't been able to attend kindergarten since the storm, Zagor said, because she's too traumatized to be parted from him now.
An 11-year-old boy is working with counselors after floating in water up to his neck on the second floor of his home for several hours before being rescued."This child has said he worries about rain," Zagor said. "He worries about whether he'll ever want to swim in a swimming pool again."
"I have days that I can't put a thought together. Like you start talking and you forget what you're saying," said Van Houten, who sleeps just two or three hours on a good night nowadays. "And the numbness, like you look at things that are happening around you, but you're not part of it."
"I have anxiety over it. Even when I lay down at night I feel my heart palpitating with the loss of everything," said Stenquist, whose home was destroyed. "I was there for 20 years."
[Quotes from "Mental health toll emerges among Sandy survivors", Associated Press, 15Dec2012, http://news.yahoo.com/mental-health-toll-emerges-among-sandy-survivors-145437336.html]
There are many other hazards after a flood.  Contact with flood waters or participating in flood clean-up increases the risk of diarrhea. Having a preexisting medical condition results in worsening health, and risk of reduced or stopped taking of prescription medications. Outbreaks of shigella, norovirus and dengue are also increased. Dengue is important because climate change is expected to increase the range of mosquito-borne diseases as the world warms.
And last, but important to our discussion here… preparing for flooding disasters in advance, through investing in insurance or other measures, has been shown to reduce the physical and psychological impacts in the aftermath of flooding.
Oil and other chemicals leaking out of 1000 N. Lamar #atxfloods pic.twitter.com/lV9zbep6lc

— Jake Brizendine (@jake_briz) May 26, 2015
Here's the bottom line…
Poor people have bad outcomes because they don't have the resources to avoid the worst
Males have a higher risk of dying due to risk taking behaviors
Females have a higher risk for anxiety, depression and PTSD
Young children, the elderly, and those with a chronic disease (e.g. heart disease, lung disease, etc) have a higher chance of getting sick or sicker
People who prepare in advance have better outcomes!
Do you fit into one or more of these categories?  It's hard to imagine anyone who doesn't. Fortunately, we can all fit into the last category, that's what this blog is all about.
How can we prepare for the worst?
Beyond doing everything we can to keep things from getting worse, what can we do to protect ourselves and our families from extreme precipitation and flooding?  Maybe the single most important thing we can do is to know what kind of insurance we have, and to get the right coverage if we don't have it.  Other things include, documenting all of our belongings, and being financially and physically prepared.
   Check your insurance coverage!
Most renter and homeowner policies specifically do NOT cover flooding. They will cover water damage that comes from the top down (e.g. roof leaks, plumbing breaks), but not water damage from the ground up, such as, from flooding due to extreme rain or hurricanes. So just to see where I was with my own coverage I called my insurance company. Turns out that I already have coverage for flooding. The agent told me that this is not the usual industry practice. The agent also informed me that if you own a house, the flood insurance is usually a separate policy. The cost of course depends how prone where you live is to flooding.
Check out these tools to help you figure out your risk of flooding where you live…
FloodTools.com

This site is easy to use to help pin down your risk of flooding. However, it gives insurance quotes from some company I've never heard of. You are probably better off figuring out your risk, then going to the insurance company that you already have a relationship with, to see what they can do for you.

National Flood Insurance Program

The NFIP underwrites flood insurance for the industry. In other words, the taxpayers back the insurance companies' risk.

FEMA Flood Maps

This site is not easy to find the info you need, but it's probably the source of data for the other sites.
---
CAUTION! Flood risk maps are based on historical data. In a changing world of extreme weather these maps may no longer be accurate. So it might be advisable to bump your own risk estimate up by at least one level.
---
   Document your belongings and property
Another important aspect of preparing for floods, or any disaster for that matter, is documenting your belongings before anything happens. The best way to do that is to take pictures… lots of them.
Personally, every year or two I take photos of all of my major possessions. I then store those pictures in several locations, including my computer, on an SD card or thumb drive, and on-line. You can get a free google drive account that comes with 15 gigabytes of storage. If you have a gmail account already, then the G-drive is part of that. Just type "drive.google.com" into your browser, or click here.
You can always use your cell phone to take pictures, but I think it's easier to take a lot of high quality pictures using a dedicated camera. I bought the Sony DSC-RX100 a year ago, and I absolutely love it. It takes amazing pictures on its automatic settings, but you can also control it manually if you want. Plus, I just remove the SD memory card from the camera and plug it directly into my computer to transfer the pics. Also, be sure to lock the SD card (tiny slider switch on most SD cards), label the card, and keep it in a safe place.
   Be prepared!
Besides insurance, you need to be financially and physically prepared to weather the storm. We had an earlier post in this blog about financial preparedness. Beyond being well insured and financially prepared, you must be physically prepared.
Preparedness includes having a disaster plan for you and your family, keeping your car in good shape with a full tank of gas during times of higher risk (during hurricane season, for example), having a bug out bag with all the necessary ingredients for 7 days of survival for all persons in your family.
Some of these things are topics of a future posts, so I won't go into great detail, but here are a few sites to help you make a plan…
Most reputable government sources will tell you that you need only 3 days worth of food and water, however, future storms driven by climate change promise to be real monsters. Seven days should be your bare minimum. Also, if you really want to get into preparedness, here's a couple of sites I like…
momwithaprep.com – found this site not long ago. It has good info about general household preparedness.
survivalblog.com – I've been following this site off and on for years. This site hosts curated, quality content written by readers. It tends to go off the political and paranoid deep-end sometime, but there's otherwise some really good info in there.
What to do if the worst happens?
Suppose the worst has happened. Your home is submerged. Fortunately, you had a plan, your paid attention to local radio and TV warnings, you kept your gas tank full, and you left early with your bug out bag and got yourself and your family to safety. Depending on how bad it was, you may not be able to go home for a while. But eventually the water will receded, and you can finally go home to survey the damage. Now what?
With all the flooding in Texas, the Houston Chronicle has written a few good articles about what to do after a flood, which are summarized here. Apparently, the number one thing you can do is take LOTS of pictures. This helps with insurance claims and application for disaster assistance. ALSO, you should have taken pictures BEFORE any disaster, as discussed above.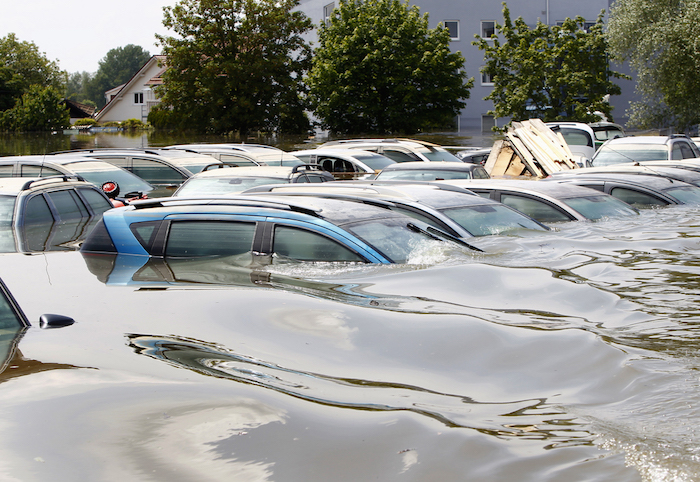 If you need to rent a car get one quickly, maybe the first thing you do. Everyone else affected by the flooding will be doing the same thing, and car rental companies will run out quickly.
Find your car. Lots of flooded cars will be towed as the water recedes.
Take lots of pictures of the damage (sounding familiar by now?!)
Contact your insurance company ASAP, and send them the pics
To get your car fixed or replaced you need comprehensive coverage, not just liability coverage
Your insurance company will likely want a look at your car, so follow their instructions for towing, etc.
If the water was up to the engine it may be salvageable
If the water was up to the dashboard it's probably totaled
Don't start the engine! That will suck water into the engine and make any damage worse. Wait for a mechanic to check it out.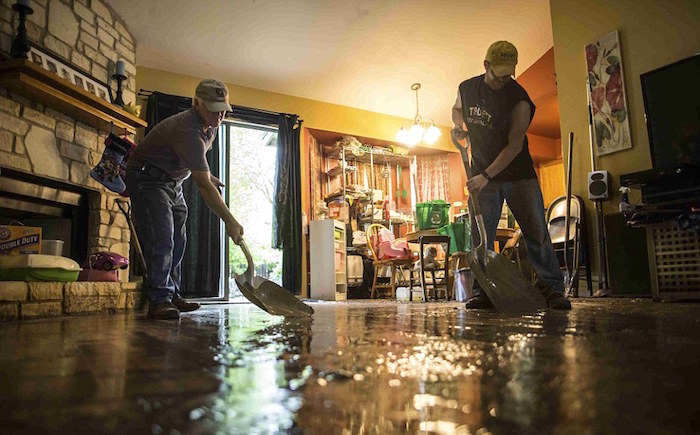 Contact your insurance agent as soon as possible to get the ball rolling. Everybody else will be doing the same thing, so don't delay.
Take pictures of everything that's damaged (hopefully you have pics from before the damage too!)
Wear protective gear! Everything that's flooded eventually has to come out and be thrown away. In the process of doing that work you need to protect yourself from the toxic muck and mold. So keep your skin covered and wear a high-quality respirator (an N-95 rated respirator). Eye protection is probably a good idea too, and sturdy boots.
Set-up fans to circulate air, and dehumidify if you can.
Wet carpets are toast. Rip them up and toss them out. Submerged wood floors will likely buckle, and end up beyond repair.
Cut and remove drywall and insulation up to the level of flooding. Otherwise mold will grow behind walls.
Clean hard surfaces with a bleach solution
Get help from your insurance company or from FEMA (see below)
If you have flood insurance, contact your agent as soon as possible, if not sooner! Everyone else will be doing the same. (Don't forget to take lots of pictures, right?!)
Contact FEMA to see what assistance applies to you…

DisasterAssistance.gov offers one stop shopping for Federal Aid and many other resources
Or call 1-800-621-FEMA (3362)

Other sources of help to remember, include…

Unemployment Insurance
U.S. Small Business Administration loans
USDA loans for ranchers and farmers
State and Tribal disaster assistance programs
Also, if you're a victim of flood or other disaster, you may be eligible for breaks come tax time
How do we keep it from getting worse?
Okay, so now you've done all the right things to prepare. Maybe you've survived the worst. Now what?
As we have seen, big changes are already happening, and it's likely that a further increase in global temperature is already "baked in", so to speak. But, to keep things from getting truly apocalyptic we have to do everything we can to keep it from getting worse.
Three relatively easy things come to mind — three ways for you to save the world…
1. Switch to alternative energy!
I can't say enough about how HUGE this is. Switching to alternative energy GREATLY reduces your impact on the world, even if you're the biggest power hog imaginable. For a heavy user of electricity your carbon footprint drops off a cliff merely by switching where you get your power from. Check out these blog posts…
2. Divest your investments from the fossil fuel industry!
If you don't have stocks or mutual funds, see if your retirement plan invests in fossil fuel companies and if so, demand change. If you're a new investor or just started contributing to a retirement fund, pick low-carbon alternatives. Here are a few posts from this blog and elsewhere to get you started…
Use this tool to figure out if a mutual fund your interested in is invested in fossil fuels –> Fossil Free Funds. I tried it out on a mutual fund I have that is supposed to be "socially responsible" and learned that a small part of their holdings are held in ExxonMobil!
3. Get politically active!
Write your elected representatives and demand they support clean power initiatives like the Clean Power Plan. Come out and protest. Demand change. This is NOT a partisan issue, it's a matter of survival. So please do your part. Here are some of my favorite organizations…
Mom's Clean Air Force – A great grass-roots organization that is rapidly growing around the country
350.org – the "granddaddy" of climate change activist movements
Union of Concerned Scientists – environmental advocacy from scientists, supported by public donations. These guys have done great work for a long time.
So there you have it.   In a nutshell, here's a quick review…
More heat is retained in the atmosphere as more carbon dioxide is emitted
More heat leads to more moisture in the atmosphere
More moisture in the atmosphere causes extreme precipitation and flooding worldwide
Preparation is key — get insurance, have a plan, make a bug-out bag, get your life in order
Take lots of pictures BEFORE disaster strikes, and store them in multiple safe places
Get out-of-town early before the 'SHTF'
Contact your insurance company early
Take lots of pictures of damaged property
Apply for emergency aid as soon as possible
Keep it from getting worse – lead by example, switch to alternative energy, be politically active.
Thank you for taking the time to read this article. If you found this post informative, and you'd like to get an email notice when the next post is published, please subscribe to our email list or follow us on Twitter. We respect your email privacy. And as always… final responsibility rests with you — get informed, take action.