Time for another What's Hot in Climate Change, a summary of the most interesting and/or important climate change stories from the previous month or so.  For those paying attention, horrific news with respect to the climate seems to be coming at an ever increasing pace.
There's also plenty of encouraging news.  The adoption of alternative energy seems to steadily exceed all expectations.  The race is on between the worst effects of climate change, and those measures we take to stop it from happening.  Our fate quite literally hangs in the balance.
Climate scientists had been scratching their heads because models predicted faster sea level rise than what has been seen over the past few decades.  This conundrum was recently solved by correction of the observed satellite data.
What scientists earlier had failed to realize is that the eruption of Mount Pinatubo in the Philippines in 1991 had cooled the global climate for several years by putting tons of fine particles into the upper atmosphere, thereby reflecting more sunlight, and messing up the satellite data.  When corrected for the effects of Pinatubo sea level rise appears to fall in line with predictions, AND it seems to be accelerating.  It also lines up with ice loss from Greenland, which has accelerating ice loss in recent years.
This data supports other work that shows that the IPCC estimates for 3 feet of sea level rise by 2100 are likely on the low side, and that 6 feet is more likely.  In other words, nearly every coastal city in the US and around the world will be in extreme danger by 2100.  This points out an interesting trend you will notice if you regularly follow climate change news.  It seems like every time some correction or new data comes out… it ends up being worse than we thought.
While the rates of sea level rise for the near term might seem small, it only takes a small increase in ocean level to have a big increase in storm and tidal surges.  The New York times did a great in-depth article on "sunny day flooding" — which seems to have increased dramatically along the Eastern and Gulf coasts over the past few years.  The article's tag line says it all… "Scientists' warnings that the rise of the sea would eventually imperil the United States' coastline are no longer theoretical."
Florida, whose governor keeps state officials from even speaking the words "climate change", is especially hard hit.  It's interesting to note that those hard hit counties and cities in Florida are not waiting for the state government to address their problems, but have formed a coalition to lobby the Federal government directly.  Another example of, while the Congress remains deadlocked by conservatives on dealing with climate change, state and local governments take the lead.
The real estate site Zillow, used by millions to hunt for houses to rent or buy, recently published an article about the risk of sea level rise to property values.  They combined their extensive nationwide real estate database with National Oceanic and Atmospheric Administration's projected sea level rise database.  They determined the impact of a 6 foot sea level rise on the US real estate market.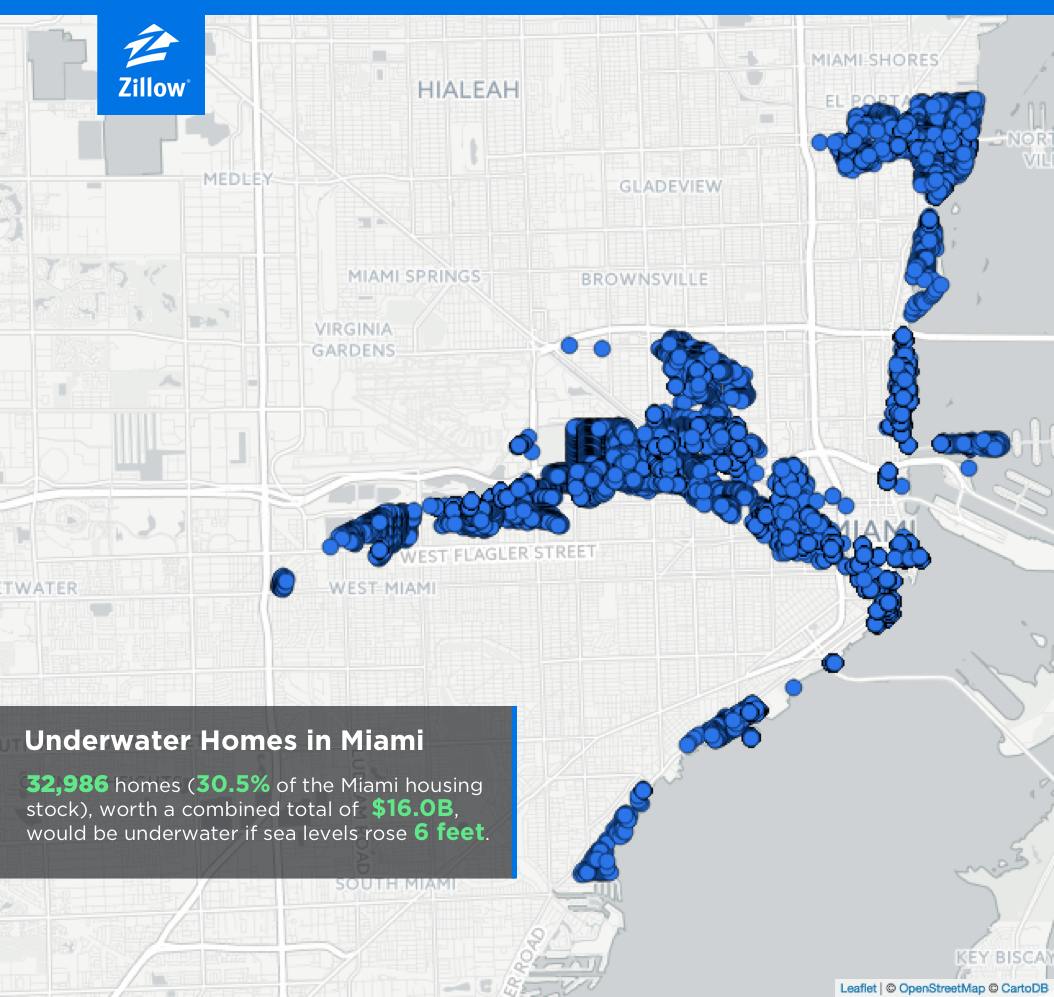 A quote from the article…
"Nationwide, almost 1.9 million homes (or roughly 2 percent of all U.S. homes) – worth a combined $882 billion – are at risk of being underwater by 2100. And in some states, the fraction of properties at risk of being underwater is alarmingly high. More than 1 in 8 properties in Florida are in an area expected to be underwater if sea levels rise by six feet, representing more than $400 billion dollars in current housing value. In Hawaii, almost 1 in 10 homes are at risk."
Mashable chronicles a terrible summer of worldwide extreme heat, drought, forest fires, and flooding.  Records are not just being broken, but being broken by a wide margin.  This was at least partly due to enhanced warming brought about by El Nino (here's a great NOAA video describing El Nino).
Some deniers might glom onto this to say that El Nino is the entire reason behind the records, but it's actually just making an atmosphere already warmed by human-induced climate change that much worse.
The real take away message is that this past summer is a taste of what the world will look like under 1.5C of warming, which was the net warming this summer when you combine anthropogenic warming with El Nino. 1.5C is the amount of warming that the recent COP21 climate conference in Paris cited as an ideal goal, however, as we can see, it will still be pretty catastrophic.
Despite all the doom and gloom, there is hope that we are heading in the right direction.  Alternative energy is the key, and wind power seems to be doing very well.  Vox provides us with an excellent and well cited summary of the latest developments in the world of wind power.
The cost of wind power keeps going down, as wind towers get larger, and more wind projects go into production.  Also, as wind power technology matures, more areas of the country (and the world) become suitable for wind power.  Wind power has the lowest green house gas emissions of nearly all alternative energy sources.
The Climate Advisor has recently been delving into energy and utility industry news sites to find good articles on alternative energy.  PowerMag is a new find.  This site broadly covers most aspects of the energy industry, and they have excellent articles about alternative energy.
The "8 things to know about wind energy" article was a quick run down of the state of wind power in the US.  Something that was not expected was that Iowa has more wind power per person than Texas!  Of course Texas still makes the most wind power by far if we're talking about total megawatts.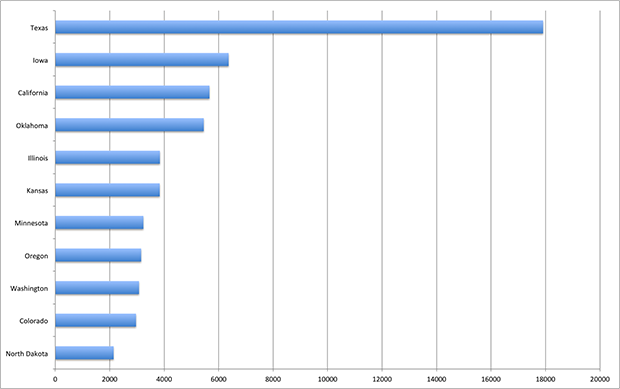 ( Here's another new favorite industry site —> Utility Dive )
BONUS:  Super Cool wind tower assembly video!
This one is just for fun!  Watch this cool video of a giant wind tower being assembled in place.  As wind towers get bigger, they are made from concrete and built in place.  Bigger wind towers as described by Vox in the article above, allow more wind to be harnessed to create more power.  The tower in the video is a giant!  Enjoy!